Sakura-Con 2019: ROOKiEZ IS PUNK'D Interview
Sakura-Con 2019: ROOKiEZ IS PUNK'D Interview
By Sean Cruz
Japan-A-Radio was granted an exclusive one on one interview with Japanese Rock band ROOKiEZ IS PUNK'D at Sakuracon this past weekend before their concert took place. ROOKiEZ IS PUNK'D features SHINNOSUKE on guitar and vocals, U on drums and RYOTA on Bass. After starting off with their thoughts on Seattle, where they visited Pike Place Market and the Gumwall, we dove into the meat of the interview, starting with their expectations of an American audience for their concert.

From left to Right: RYOTA, SHINNOSUKE, U.
A: We took a look at the stage area and it was really big, and there were a ton of people there, the stage is nice and well setup, even amongst other conventions they've been to it's really well setup, we feel like its going to be a lot of fun and everyone will be pumped and have lots of energy tonight. Fans from America tend to be excited and passionate, whenever we have live shows in America our voices tend to be twice as loud as when in Japan because the American fans tend to be twice as loud, so we feel like everyone is going to be energetic and pumped and we're going to have a good time.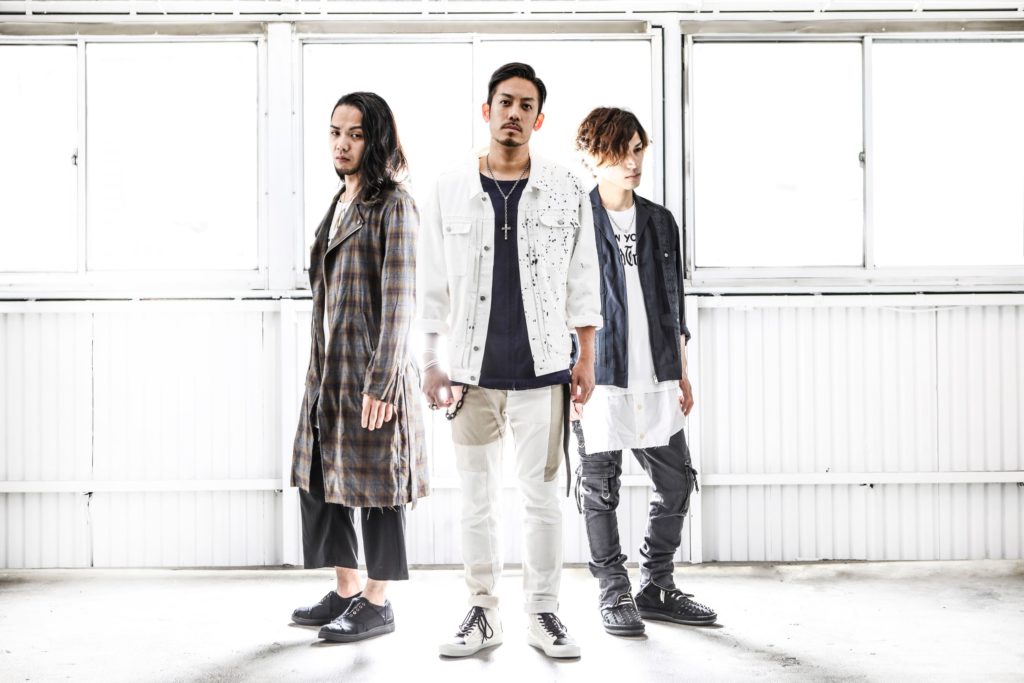 Q: You have a lot of American fans through your anime theme songs, but how would you describe your sound to first time fans or people that are just discovering you?
A: We have done a lot of anime themes and we know the audience kind of expects that tonight, so they plan on playing a lot of those this evening, but in terms of making a song for an anime series, we tend to shoot for something related to how we feel but also how the main character feels, so we try to get into the way that main character feels. In general we want to express emotions that every person has, so we want people to feel sad, or happy, or receive courage from our music. We're just a band, but we would like people that are listening to us for the first time or in the future to receive emotional support from our music so that is what we as a band are shooting to achieve.
Q: For your anime songs what is the process exactly? Are you given free reign, do the studios give you specifics of what they want in the song, do they choose a song that you've already done, and is the process different for each series?
A: So it really depends on the anime, so for Durarara!! we had the song "Complication", and for Bleach we had "Song for..." and in those cases they were already existing songs that the creators decided would work best, would fit what they were shooting for in regards to those anime series, however for Blue Exorcist and Yowamushi Pedal they were asked to create a song from scratch, so in those cases they will read the entire manga series to get familiar with it and then create a new song based on that, so we have very different processes depending on the anime we are working for.
Q: Is there any anime series you would like to do a song for?
A (RYOTA): One Piece? Yeah...
Q: There is still time, I mean One Piece is quite long......
A: (Laughs)
Q: Any others?
A (U): Dragonball, that would be super awesome.
Q: Are both of those your favorite anime as well?
A (RYOTA): One Piece is my favorite, yes. (U): Yes. Really? (both of his other band members dispute this). (SHINNOSUKE) I would like to do a song for Teenage Mutant Ninja Turtles, (laughs). It would be awesome to do a song for that, it's a really awesome show.
Q: How do you feel like you've evolved over the years, from when you first started till now?
A: Well the biggest change over the years is that the original bassist and drummer are no longer with the band and now we have U and RYOTA, so obviously that's a big difference. When we first started we didn't go in with the feeling of "I want to make anime theme songs", we ended up doing anime theme songs as sort of a positive accident, but one of the results of this is that like this weekend, people all over the world have listed to our music, we can go around to difference places around the world and our fans love our music for what it is, so when we first started we couldn't have imagined this at all.
Q: When you were first selected to do an anime theme song, how did that change your perception of what you were doing, and how did you deal with that sudden boost of fame?
A: When we first debuted we were more of an underground band, so when we did the Durarara!! theme song we realized our music was reaching a whole different group of people that it hadn't before, so we as a band realized we had to start thinking more about different groups of people, and as a result we wanted to place more emphasis on the Japanese lyrics we were writing so that we could reach people more clearly. Also as a result of doing anime theme songs we now had fans from around the world who heard our music through anime, so we realized that we wanted to make songs for people around the world and not just one group of people, so our viewpoint grew a lot more and now we make music for people everywhere and not just in Japan, that has been the biggest change.
Q: If you could collaborate with any band or musical act who would it be?
A (SHINNOSUKE): Ahh, we get this question a lot..... Back-On, they've done Tales and Gundam theme songs (Tales of the World: Radiant Mythology and Gundam Build Fighters), they're a band that we've known for a really long time and we're been friends for so long, so it would be really cool to collaborate with them and then have our music together be listened to by people around the world. (RYOTA) We don't have any women in our group so it would be cool to collaborate with a female vocalist or idol group, someone like Lisa maybe? That would be really cool. (U) Ayumi Hamasaki (laughs).
Q: Any American bands that you would like to collaborate with?
A (SHINNOSUKE): Gym Class Heroes. (RYOTA): Queen (laughs). Even though they're not American but I would like to collaborate with them because I watched Bohemian Rhapsody on the plane. Also Slipknot.
Q: What are your thoughts on the Sakuracon so far and the fans and all the cosplayers?
A: From what we've seen the cosplay is really high quality and we want to stop and take pictures but we haven't really had a chance to do that so we'd like to take some time to do that later on. The event itself has been treating us really well like the security and staff have been really on point and the people that are working with us are all really nice.
Q: Have you had a chance to talk to the other guests here and how does that compare to say talking to other bands at music festivals?
A: We were in the green room yesterday talking not so much to the other guests but to some of the different staff and it was interesting to hear what they do in their day jobs, some work for gaming companies for example so it was really interesting to hear from the staff who are doing things that are different from what we do so it was a lot more interesting than just talking to musicians about music, so we learned a lot from the different staff members.
Q: Do you have any final thoughts about this weekend?
A: It's been a while since we've been at a convention to perform at. Last year we did a world tour and we played in a lot of different live houses and that was a different experience and coming to an anime convention after a long while was something we were really looking forward to even before announcing we would be coming here. There is a lot that we love, coming to America. We hope that we can come more often and play more often for American fans and we hope to have an awesome concert tonight and we hope everyone has a really good time.
Q: Thank you very much for your time!
A: Thank You! Arigato!
Concert Review
ROOKiEZ IS PUNK'D delivered on what they said they would do during the interview, which is to be loud, to give the fans a really good time and to play their anime theme songs, which they did while being loud and energetic and by encouraging the fans to jump up and down quite often. Among the songs they played were Reclimb (from Yowamushi Pedal), Song for... (Bleach) and Complication (Durarara!!) along side Familia, Light a Fire, and other songs off of their last album including their first video game theme song, Wadachi (from PS Vita game Hanayori ~ Sengoku Densetsu ~)
*ROOKiEZ IS PUNK'D upcoming hiatus was not discussed as per their manager's request.